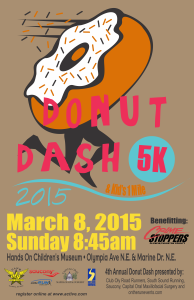 Your donut waits at the finish line! Club Oly Running and South Sound Running in cooperation with Children's Hands on Museum and Crime Stoppers are proud to announce the Fourth Annual Donut Dash.
Come out, bring your friends, support your local community, and enjoy this local 5k run starting at the New Hands On Children's Museum at Olympia Ave and Marine Dr.
2014 Results and Photos
Photos from OnTheRunEvents.com
2013 Results and Photos
Photos on Crime Stoppers Facebook
Photos from OnTheRunEvents.com
Race Safety Rules
Sorry, no dogs, skates, bikes or rollerblades allowed.
Strollers are welcome but must start at the back of the pack.
We strongly discourage the use of earbuds or headphones. It is important that you be able to hear traffic and instructions given by our officials on this open course.
Previous Donut Dash Results