Fall 2015 Marathon and Half Marathon Training Group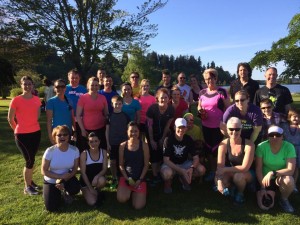 Train to run a Fall 2015 Marathon or Half Marathon!
Club Oly Road Runners is excited to announce our 8th annual Marathon & Half Marathon training group!
This 16 week program will target the Portland Marathon on October 4th and other fall races. Benefit from advice and guidance from Club Oly's experienced and supportive group.
Runners also receive a code for $10 off the Portland marathon when they sign up.
Marathon and Half Marathon Price (Club Oly Member) $40
Marathon and Half Marathon Price (Non-Member) $60
Limited to 50 participants! As an added benefit, all participants receive Club Oly membership for the rest of 2015!
All participants signed up by June 14th will receive a t-shirt so sign up today!
Long Runs – Saturday Morning
Start at South Sound Running on Saturday mornings.  Maps, water and support will be available.
Mid-week Runs
Tuesday evenings at 5:30pm at South Sound Running for "speed" work or regular run depending on goals and experience.
Wednesday evening runs around Capital Lake beginning at 6:00pm at Marathon Park.
Event Schedule and Times
Informational meeting: Tuesday, June 9, 6:00pm at South Sound Running. We encourage you to attend and get your questions answered.
First long run: Sat, June 20, 7:30am at South Sound Running.
Last day you can still join: Sat, July 4.
To use a club discount you must register by Sun, June 14, 2015. After that the non-member price applies.
Recommended Fitness Levels
Half marathon – at least 6 months of running 3-5 days/week. Can comfortably run 6 miles.
Marathon – at least 6 months of running 3-5 days/week. Can comfortably run 8 miles. Recommend marathoners have completed a half marathon.
Always consult your physician before beginning any exercise program.